Day 1 The Day Before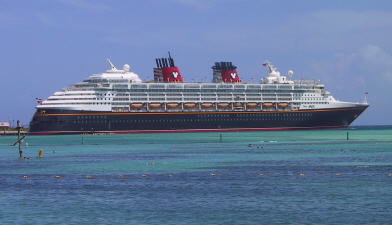 Our cast and crew consists of Myself (Rich), my wife (Deb) and our 2 daughters (Amanda 9yrs) (Kristen 12yrs). This was our 3rd Disney Cruise and 4th overall cruising experience for our family. We booked this sailing 11 months before our sailing date through the Disney Vacation Club.
We planned this trip with 2 other DVC families that we sailed with last year. We had so much fun, we had to do it again! We all met on AOL several years ago, and enjoy getting together for these trips. We already have our next one in the works for 2003! They are really fun families and we enjoy their company immensely.
Planning
We had planned to drive to Port Canaveral from our home in Michigan. A month or so before we left, we checked airfares and found some great rates at Northwest. The flight schedule would have been perfect, except we would need to disembark the ship and make our flight at 12:30pm. We would have wanted to be at the airport 2 hours before our flight as advised by the airlines. Because we were delayed at Disney's Castaway Cay on our last trip, we would have been cutting things too close to make this flight. If something like that happened again, we would have missed the flight completely. It's a gamble we didn't want to worry about. When we checked the rates a day later, they were all gone anyways! Live and learn! When you see great deals ($134 RT) take them! They may not be there in a few hours! When you add up the logistics of shuttles/rentals....taxes...It's still easier to drive the 21 hours from home.
The Trip
We left our home around 3:30am Thursday morning July 14th. We had booked a room, online, at the Best Western in Cordelle GA. Traffic was moderate to light for a Thursday. The trip was pretty much un-eventful. Our room at the Best Western was very nice! The girls loved the pool which was right outside our back patio door. We will stay here again!
We woke, had a light complimentary breakfast, and hit the road around 8:30am. The excitement is really beginning to build now! It's only about a 6 hour drive to the port today!
Our patio at the Best Western in Cordelle Georgia.
I would like to report that the rest of the drive was un-eventful.....but a funny thing happened on the way to the port. We stopped for gas at a station just North of the Florida border. I had to use the bathroom rather urgently, and left Deb to pump the fuel. While I stood at the urinal, I heard a man's voice say "Hello?!" from the stall next to me. I decided to ignore it and continue with my business. Suddenly, the stall door flew open and out of the corner of my eye, I saw a large man approaching me! "My hands are swollen and useless. Can you button me up?" he asked. I leaned closer to the urinal on the wall and replied "Just a minute." My mind was working a mile a minute to defend myself from an impending attack. I could see this was an elderly man, holding his red, swollen hands like a surgeon who had just scrubbed up. He stood next to me with his fly wide open as he waited for me to finish. Unbelievable! He seemed harmless enough as he explained that his fingers were useless and he needed help. Ok, ok....I finished and flushed and helped the man out. Of course, it couldn't be a simple snap, oh no...a button, clasp and very long zipper. He told me a joke about the Devil while I worked on his pants. Flashes of him chopping my neck with those huge paws he held up were fading away as I finished and he completed his joke. I only remember the punch line...but, I gave out a hearty laugh as I exited the bathroom. His elderly wife appeared to wait outside the door to perform the task I had already completed. My good deed for the day I suppose. I returned to the car somewhat stunned. Deb exploded with laughter as I told her my story. Off we drove to the port!!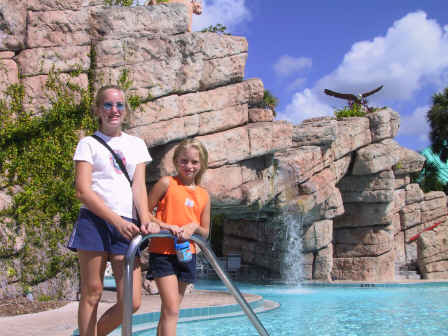 The girls stand in front of the beautiful pool at the "Raddison at the Port".
We arrived at the Raddison around 3:00pm. We had contacted our friends on their cell phones to let them know we were here. We were meeting Chris and Darla's families on Cocoa Beach at the condos that Chris's family had rented for several days. We checked into our room and got our luggage situated. We had a great first floor room, close to the pool and lobby. We were very happy with our room and location! The resort looks better than ever. Of course, staying here reminds us we will be sailing soon!
Darla and her sister Deb set up their fortress on the beach. Chris's apartment is behind to the left.
We found Chris's resort and met them all on the beach. It was a beautiful day, but really windy off the ocean. The kids played in the ocean while we talked and planned onshore. We watched Darla's folks, who were casino cruising 3 miles off shore, sail back and forth along the beach. It was a great afternoon getting re-acquainted with our freinds.
Why do kids dig these holes?
After a couple hours, we headed back across the street to the Raddison for showers. We got dressed and had a quick dinner at Burger King. We met Chris's family at Ron Jon's later that evening. We got to bed early for our big day tomorrow! We can't wait!